Adventures at Sea in Panama City Beach is the best place for fun, kid-friendly activities. Choose from pontoon boat rentals, shell island tours, dolphin tours, banana boat rentals, and more!
Pontoon Boat Rentals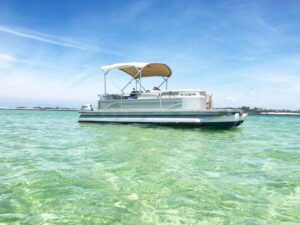 Freedom! Explore Panama City Beach's gorgeous scenic areas while being your own captain on your own pontoon boat rental from Adventures at Sea. Our fleet of modern, comfortable boats is the best way to get on the water with family and friends to enjoy a day filled with memories. Our pontoon boats accommodate a maximum of 10 passengers, so there's plenty of room to stretch out, social distance, and bring the whole gang, including pets!
Highlights:
Explore Shell Island
Discover Underwater Thrills
See the Dolphins
Go Fishing
Find a Secluded Shore
See the Sights
---
Guided Boat Tours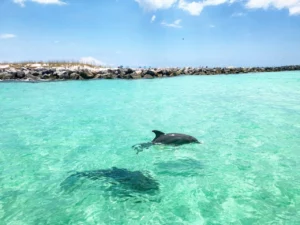 With a Boat Tour in Panama City Beach, Adventure at Sea allows you to sit back and relax as your captain takes you on a tour of paradise. Our experienced captains know how to show you and your family and friends a great time and will take you to the best spots along the island.
Adventures at Sea does provide longer boat tours for those families interested in extending the tour.
Highlights:
See Wild Dolphins
Explore Shell Island
Snorkel the Shallow Waters
Enjoy the Sights of St. Andrews Bay
Tour the Gulf of Mexico
2 Hour Tour
Up to 6 people per tour
---
Waverunner Tours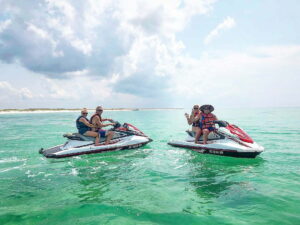 Our Waverunner Tours, on one of our many jet skis, will take you on a trip to some of the most beautiful spots the Panama City Beach area has to offer. And getting there is half the fun!
Speed across the water or go at your own pace. One of our experienced local guides will be with you the whole way to ensure you get the most out of your experience and take you to see some of the best sights on Panama City Beach.
Highlights:
Explore Shell Island
See Wild Dolphins
Discover the Best Spots
See St. Andrews State Park
Watch Bay Area Wildlife
---
Jet Ski Rentals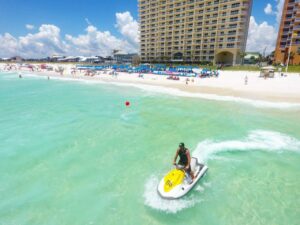 Jet Ski Rentals from Adventures at Sea is a great family-friendly experience the kids will love. You don't have to race across the waves or be a daredevil to have a good time. Just being out on the water and enjoying the view can be thrilling all by itself. Bring along the camera to capture what you see.
Cut loose on one our powerful Yamaha VX-Sport and hit the waves at your disposal. Come out and explore!
Rental Info:
1/2 Hour & 1 Hour Rentals Are Available
Jet Skis Rentals are conveniently located behind major resorts and key locations all along Panama City Beach, Florida
---
Beach Chairs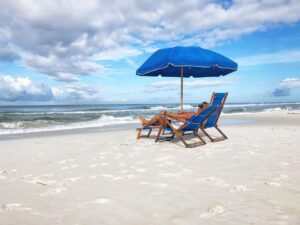 What can be better than spending a day at the beach? Spending that day relaxed in total comfort on "The World's Most Beautiful Beaches" being tended to by the Adventures at Sea beach crew. Reserve your private beach lounge chair and stake your claim to the best locations on the beach. Daily – weekly – seasonal rates available. Come spend the day relaxing on the beach. Dates for chair rental services are from March 1st – Oct 31st. We are Closed for season from Oct 31st – Feb 28th.
Highlights:
Cushioned Comfort
Adjustable Head Rest
Private Shade Umbrellas
Personalized and Attentive Service
Insider Tips on Area Attractions and Activities
Expert Advice on Panama City Beach Adventures
Full Set-Up and Tear-Down Service – You Do Nothing But Relax and Enjoy the View!
Our comfortable rental loungers can be reserved by the day, week, month, or even for the whole season!
---
Beach Bonfires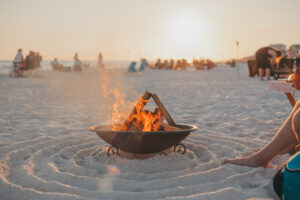 Beach bonfires on Panama City Beach at sunset are the best way to top off a vacation! Through Light Up The Night Bonfires, we offer beach bonfires on the beach. From a romantic date night to weddings and special events to a full on party under the stars we have you covered!
We can also tailor a bonfire package to fit your needs. Light Up The Night Bonfires would love to light up your night! Check out our packages and give us a call.
---
Double-Decker Pontoons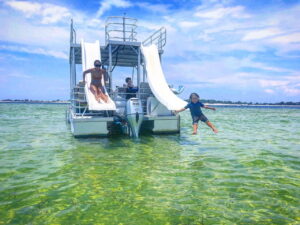 Adventure out on our newest boats. Our double decker, dual slide, pontoon rentals come with a Honda 90cc engine and the most modern and comfortable seating for the whole family. Be your own captain, take your friends and family out, throw anchor, climb to the top and slide off into the splash zone below!
Our pontoon boats accommodate up to 12 passengers, with plenty of room to stretch out and bring the whole gang, including pets.
Highlights:
Visit Shell Island
Go Snorkeling
See Wild Dolphins
---
Parasailing Rides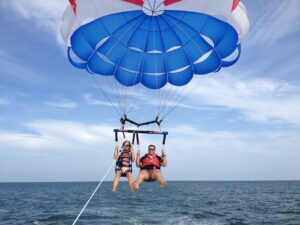 Take a high-flying ride above "The World's Most Beautiful Beaches" and thrill at the sights not even the tallest condo balcony can rival. A parasailing ride along the shores of Panama City Beach is the ultimate Adventure at Sea.
Hold on tight as you sail smoothly high over the crystalline emerald green waters of the Gulf and see:
Highlights:
Sweeping panoramic vistas of the amazing coastline and Shell Island
Large underwater marine life not visible from shore such as dolphins, sharks and more!
Miles in every direction!
Your friends jealously waving to you from the beach!
At your request, enjoy a gentle dip in the Gulf – always a memorable highlight for those who experience it!
---
Banana Boat Rides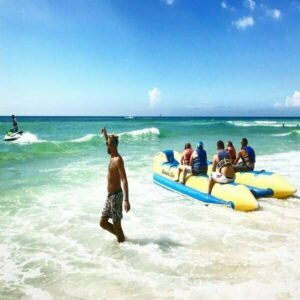 Zoom across the postcard waters of the Gulf of Mexico and experience the thrill of hurdling over the waves on an inflatable banana boat ride in Panama City Beach. It's the ultimate way to cool off after enjoying some time in the sun, and a safe adventure for the entire family!
Hop on right from shore and hang on for a fun and scenic ride. Enjoy the views of shore and under the water. You might even encounter one or our area's friendly dolphins along the way. Our banana boat rides are safe and crewed by our experienced and professional staff. We supply life jackets that comfortably fit kids 4+ to adults.
Perfect For:
Families
Kids
Spring Break
Cheerleading Groups
Wedding Parties
Locals
Anyone Who Loves to Have Fun!
---
Chartered Fishing Trips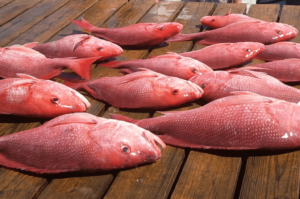 Charter your own fishing trip in Panama city beach Florida. Climb aboard one of the Panama City area's finest fishing charters and experience the thrill of Gulf of Mexico fishing! Also charter fishing package is led by an experienced, knowledgeable professional crew that knows how to put fish in the boat and ensure you have plenty to smile about in your pictures with the big ones.
This state-of-the-art charter boat can accommodate up to 20 people, so there's plenty of room for the whole family and group of friends. Because our charters are extremely kid-friendly and suitable for pros and novices alike. We also take care of everything so all you have to do is reel 'em in!
Fish to Catch:
King mackerel
Spanish mackerel
Blues and Ling
Red Grouper
Black Grouper
Snapper
Triggers
Cobia
---
Dolphin Tours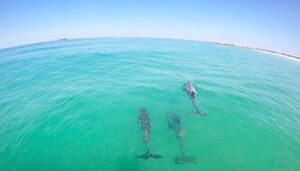 Dolphin Tours & Snorkel Tours in the beautiful Gulf of Mexico are always memorable. On our tours we will take you to the island and get you as close as possible to the dolphins for a close and unforgettable experience. While on our tours we will stop on the island for snorkeling and shelling exploration.
Wild Dolphin Tours:
Dolphins are a loose grouping of different aquatic mammals that live all over the world. In Florida, the most common dolphin is the bottlenose dolphin. The iconic grey dolphin that Flipper made famous.
When we take visitors and locals on dolphin tours in Panama City Beach, one of our number one priorities is to make sure that the dolphins aren't disturbed as they go about their day. That said, we know all the places where schools of dolphins like to congregate, and we'll take you all around the beautiful Gulf of Mexico so that you can see these beautiful dolphins enjoying their natural habitat.
A dolphin tour is fun for all Panama City Beach visitors. If you're looking for a more adventurous ride, we can take Waverunners on our journey. If you have young kids or members of your party that just want to kick back and relax, our tour boats can make sure that everyone rides in comfort as we search out wild dolphins. Also you can take pictures, video, and make sure that your trip is one to remember!
---
Shell Island Tours
Shell Island is an undeveloped barrier island off Florida's Emerald Coast. It runs around 7 miles from east to west. It is made up of graceful sand dunes, pine hammocks, and shrub forest. An inland lake provides a home to shorebirds and deer. The protected shore means that a variety of crabs, coastal wildlife, and endangered species all make their homes on Shell Island.
The western half of Shell Island is part of the St. Andrews State Park. It's as natural as Florida gets. Which means that you won't be stopping at a concession stand or stopping at a picnic table. But you will get a chance to see some of the most beautiful, untouched wild land left on the East Coast. Get a chance to see a variety of endangered species.