AQUA Condominium Association, Inc.
A Private Property Organization
Rules and Regulations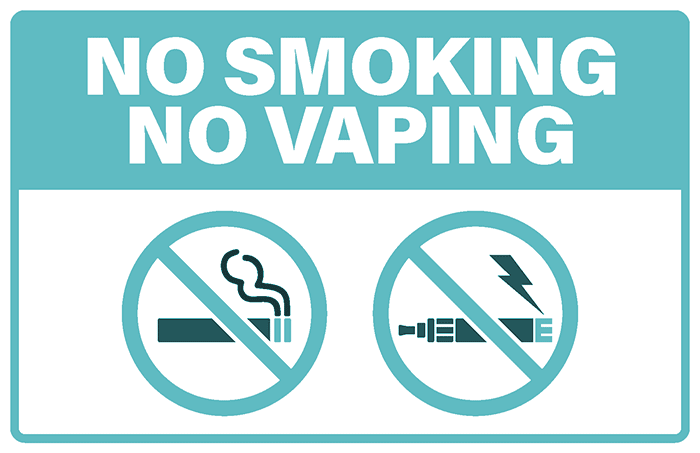 AQUA Condominium is a family-oriented resort.
Proper Resort Etiquette is important so that everyone enjoys their stay at AQUA.  Violations may result in the loss of your deposit and/or rental fees, fines or loss of the resort privileges including possible eviction. AQUA will not tolerate disruptive or lewd behavior from any guest at any time.
SECURITY: Call 850-624-2215
SMOKING: Aqua is a NON-SMOKING Resort: No Smoking in hallways, common areas, and unit BALCONIES – strictly enforced
AGE REQUIREMENT: Guests must be 25 years or older. All guests under age 25 must have in-room adult supervision. Adult must be staying in the unit and available at all times. FAILURE to do so will result in EVICTION and FORFEITURE of rents and deposits. Minors are not allowed to consume alcohol anywhere on property.
RENTAL PERIOD: A three-night minimum rental period is required. All owners and their appointed rental management companies must comply with this ruling
WRISTBANDS: All registered guests must wear wristbands provided to you at check-in. Wristbands are required to access the common areas including the swimming pool and fitness center.
PETS: Deeded Owners with registered pets only – NO pets allowed by guests or family members – NO exceptions! Pets are not allowed in the pool and spa areas or on the beach at any time
LUGGAGE CARTS: Luggage carts are available for everyone to use. DO NOT take luggage carts inside your unit. RETURN luggage carts after each use.
BALCONIES: DO NOT climb or lean over the balcony. DO NOT drape towels, clothing, etc., on balcony railings. ANY OBJECTS THROWN FROM THE BALCONY IS A CLASS II FELONY AND IS CAUSE FOR IMMEDIATE EVICTION AND/OR PROSECUTION! The shining of laser pointers and flashlights from balconies is strictly prohibited.
ELEVATORS: Elevators have sensors that will shut down if you jump in them or exceed the weight limit. If you are stuck it may take 30 minutes or longer for rescue service personnel
to arrive and you will be charged for the emergency service call.
FIRE EXIT: Walkways and stairwells are fire exit lanes. No articles shall be left in these areas at any time. This prohibition follows the fire code and insurance requirements and is for the protection of the residents in case of fire. DO NOT LEAVE COOLERS, TRASH, UMBRELLAS, BEACH CHAIRS OR ANY OTHER ARTICLES IN WALKWAYS OR STAIRWELLS. They WILL be removed and disposed of.
OCCUPANCY: Strictly limited to the number of persons designated per fire code. Non-registered guests may not use rooms or premises.
GRILLS: Grilling on balconies is NOT permitted with electric, gas or charcoal grills. Grilling stations are available for use poolside.
NOISE LEVEL: Guests must maintain noise level to avoid annoyance to others. Radios with earphones are required in all public areas, including the pool deck. "Quiet Hours" are enforced throughout the resort between 11:00 P.M. and 8:00 A.M.
POOL AREA: Pool hours are 8:00 A.M. – 10:00 P.M. Please follow the rules posted for your safety.
FITNESS ROOM: Fitness room hours are from 5:00 A.M. to 11:00 P.M. You must be 18 years of age. Please follow the rules posted in the fitness room.
TRASH: Trash chutes are located on every floor at the east and west end of the hallway. DO NOT put large boxes in the trash chute. DO NOT leave trash sitting in the trash room and keep the trash room door closed. Trash must be bagged and securely tied before placement into trash chute. Oversized items and any trash not properly bagged must be taken to the trash room located on the east and west end of the tower at ground level. Building materials of any kind must be removed by the vendor and may not be put in the dumpster or compactor. Guests who leave trash in the hallways will be charged for any clean-up
DRONES: Drones are NOT allowed to launch or fly from or on AQUA property.
SEAGULLS: Feeding seagulls is prohibited on resort property and on the beach.
FIREWORKS: Fireworks of any type are prohibited from being discharged on property.
SKATEBOARDS: Skateboards, roller blades and skates are not allowed on property. Parents will be held responsible for their children.
LOSS OR THEFT: AQUA Condominium assumes no responsibility for any loss or theft of personal property.
EVICTION: If you are evicted from the unit, which you are renting for failure to abide by AQUA Rules and Regulations or for any other reason, you will not be entitled to a refund of
the rents paid in advance. YOU WILL BE RESPONSIBLE FOR DAMAGES to the unit or common property caused by you or your guests.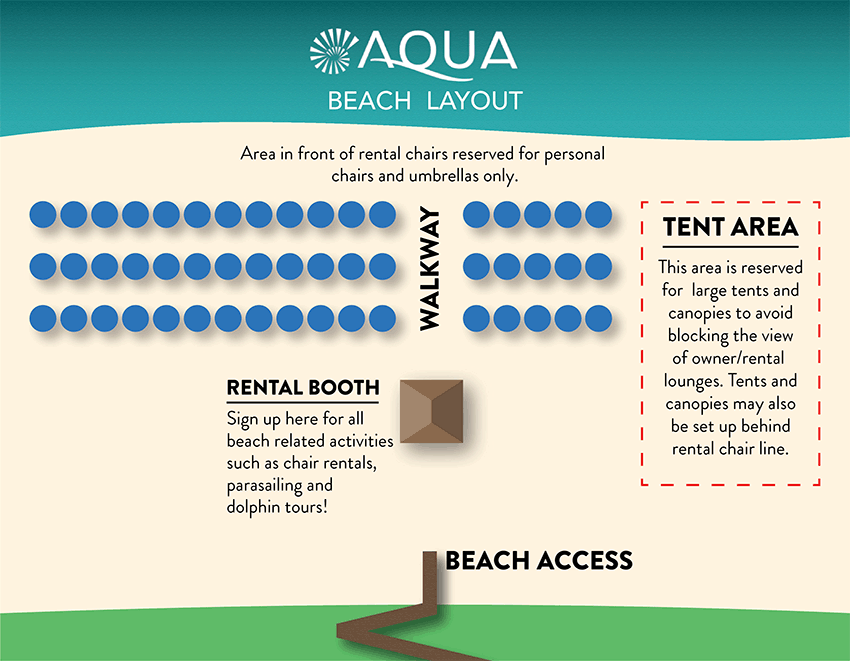 PARKING:
AQUA allows two (2) parking spaces per unit.
All vehicles using the parking garage must be pre-registered online at: aquaparking.net
All vehicles are required to display the assigned registration permit on the driver's side of the dashboard where it may be easily read by Security and Resort Staff.
Vehicles without the proper registration permit clearly displayed are subject to ticketing and/or towing at the owner's expense.
Garage access is granted by punching in a 4-digit code which will be provided to you during your online registration.
Please be aware that the parking garage is open to the public. AQUA cannot guarantee that members of the public will not enter the garage and cause damage to property and/or engage in criminal activity. Accordingly, you park your vehicle in the garage at your own risk. AQUA is not responsible for theft, vandalism, or any form of damage to vehicles incurred on the premises.
It is important for the effective management of the garage that you park within the limits of the marked space. Do not park within a space designated for a specific purpose when you are not entitled to such as a handicap or reserved space. Designated handicap parking spaces are for the exclusive use of vehicles displaying proper handicap hangtags or disabled license plates.
The Parking Garage has a clearance height of 7'6". All vehicles must fit within a normal parking space.
Street legal golf carts must park in the lower level of the garage. This entrance gate is located on the northwest corner of the garage. The clearance height for the lower parking area is 6'7".
No parking space is to be used for ANY activity other than parking your vehicle. No loitering, camping, or using as a work area. All vehicles must be in running condition and have current license plates.
No skateboarding, hoverboarding or rollerblading allowed in the parking garage. Bicycles must use the designated areas for parking.
Boats, trailers of any sort, recreational/camper-type vehicles, personal watercraft and any commercial vehicles are NOT ALLOWED on property. No exceptions.
The driveway in front of the building limited to 10-minute parking and vehicles may not be left unattended. This area should not be used as a loading/unloading area.
All unauthorized vehicles will be towed at owner's expense.
POOL & HOT TUB AREA:
NO LIFEGUARD SWIM AT OWN RISK. NO DIVING. The main rules for the pool are posted around the pool area and are to be observed at all times.
Towels do not reserve chairs, PEOPLE DO! Do not take chairs off the pool deck. If personal items are left unattended on the pool deck or on the chairs for longer than 15 minutes, they will be removed by AQUA staff and placed in "lost and found".
Pool hours are from 8:00 AM – 10:00 PM CST. No one is permitted in the pool area anytime the pool is closed.
AQUA reserves the right to close the pool and hot tub for any reason deemed necessary including but not limited to repairs, inclement weather, or other conditions hazardous to swimmers.
Life preservers when worn for safety, are permitted in the pool. Other flotation devices are prohibited.
Conduct such as screaming, boisterous activity, unnecessary splashing and/or throwing of a ball or other objects in the pool or pool area is not permitted. No running, pushing, wrestling, jumping or rough play is permitted in and abut the pool or hot tub.
Proper (family oriented) swimming attire is required at all times. Children in diapers must wear approved "swimming diapers" while in the pool or on the pool deck.
All children under the age of 12 must be accompanied by a parent or guardian. Parents or guardians must remain with the child at all times while using the pool and hot tub and are responsible for the child's safety and actions.
NO GLASS or food in or around the pool and hot tub area.
Persons suspect of being under the influence of drugs or alcohol shall be prohibited from entering the pool and hot tub area.
AQUA retains the right to temporarily revoke pool privileges to anyone that does not follow or obey the pool rules.
If you have any questions about the Aqua Resort Rules, please contact us.